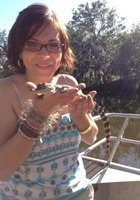 Irina
Certified Tutor
I was born in Petropavlovsk-Kamchatskiy, a small picturesque town in the Far East of Russia. I grew up surrounded by visitors of many cultures and languages, and from early on it has sparked my interest in the outside world.
After mastering the English language and graduating from high school, I came to the United States to attend the University of Alaska Anchorage to obtain my Bachelors degree in French and Spanish. It was a great opportunity for me to immerse myself in Anchorage's multicultural community.
I am very proud of my heritage, and working as a Russian tutor at UAA for 2 years, I had a chance to share my passion and appreciation of Russian language and culture with the other students. As an officer of International Student Association, I collaborated closely with a Russian Immersion School. Over 3 years many of its students came to me for tutoring.
As a native speaker, I understand all aspects of Russian in depth, and I can break them down to make the learning process effective and perspicuous. Moreover, as a language student myself, I can relate to the challenges and frustrations of mastering a foreign language. I employ a custom tailored approach for each of my students based on their individual learning style, goals, and struggles. I work hard, and my students' success is my number one priority.
Aside from my passion for foreign languages, I enjoy spending time with my husband and our three kitties, practicing belly dance, and reading classical literature. In the very near future I plan on attending graduate school to obtain my MBA in Hotel and Hospitality Management to come closer to my dream career in tourism field.
Hobbies
Traveling, World Languages, History, and Literature, Belly Dancing, Fitness/ Health, Cats