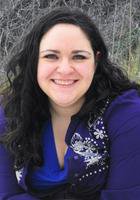 Stephanie
Certified Tutor
I started tutoring professionally in 2002 while I was in college. In 2004, I tutored English, French, Latin, and constitutional government for Baylor University's Student-Athlete Services and stayed there the first two years of law school. I love working with foreign languages. I speak English natively, French fluently, and Spanish and Arabic proficiently. I also can read and write Arabic.
Education & Certification
Undergraduate Degree: Baylor University - Bachelor in Arts, Language and Lingustics
Graduate Degree: Baylor Law - Juris Doctor, n/a
Test Scores
ACT English: 34
ACT Reading: 31
SAT Verbal: 800
Hobbies
Writing (especially fiction), making a warm and beautiful home for my husband and my son, practicing power yoga, reading almost anything I can get my hands on, knitting anything so long as it is rectangular.
Tutoring Subjects
College English
Comparative Literature
Conversational French
High School English
Latin 1
Other
Summer