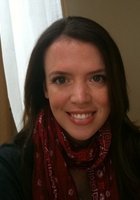 Andria
Certified Tutor
I am a recent graduate of Duke University, with a Master of Science degree in Global Health. I spent the six previous years working for Novartis as a Head of Communications in the Vaccines and Diagnostics division. I joined Novartis after completing my undergraduate degree with honors in English language and literature from Westmont College in Santa Barbara, California.

I can help both students and professionals with all ranges of English writing and reading skills, including grammar, vocabulary, reading comprehension and retention, English as a second language, essay writing and editing, higher level literature analysis, thesis writing and editing, business writing, and presentation and public speaking skills.

I have taught and tutored students from elementary school through the graduate and professional levels. I have served as a professor's assistant in British Literature and Dramatic Arts classes, and have conducted caregiver classes on the Picture-Exchange Communication System for children with speech disorders.

I have also tutored on the tools needed to becoming an exceptional student, including organizational skills, memorization and mnemonic devices, study-to-the-test techniques, responsible speed reading, and time management.

My philosophy toward tutoring hinges on two primary goals: 1) to tutor in a way that not only meets the student's academic goals in the near-term, but also imparts a methodology that will carry the student toward future and continued success, and 2) to foster self-motivation in a student by making English fun!

I love sharing my passion for language and literature with others, especially in helping overcome the "fear of the blank page" and other anxieties. Its never too late to learn to write well, to enjoy reading, or to apply these important skills to achieve your academic and professional goals.

Personally, I love the time to enjoy a good book, but I also love traveling, attempting challenging recipes, kayaking, hiking, and taking my dog Cali to the beach.
Education & Certification
Undergraduate Degree: Westmont College - Bachelor in Arts, English Literature & Language
Graduate Degree: Duke University - Master of Science, Global Health
Hobbies
International travel and culture, geology, art history, cooking, and classical ballet
Tutoring Subjects
College English
College Level American History
College World History
Comparative Literature
Elementary School Math
High School English
High School Level American History
High School World History
Other
Summer