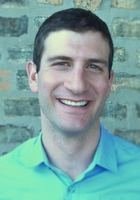 Alex
Certified Tutor
Often we are faced with obstacles in learning we don't believe we can overcome. As a tutor, it's my duty to aim higher with my students in grasping that new idea or internalizing the keystone concept. I take a holistic approach to learning, since our education should be structured not only to help us pass exams but to additionally give us enjoyment and perspective for life's ups and downs.

I began teaching in earnest over a decade ago when I taught ESL in South Korea. During that time and since, I've been fortunate to tutor students of all ages and in a variety of subjects. I received a BA in International Relations and Economics from the University of Wisconsin-Madison, and more recently completed my MBA program at the University of Southern California. My business school classmates and I took pride in offering group tutoring in subjects such as stats, economics, finance, etc., and I still feel ardently that the best way to fully understand a subject is to teach it!

I have years of experience teaching algebra I & II, economics and Spanish, but also love to assist students with ACT, SAT, LSAT and GMAT test prep. One of the greatest investments you can make is in improving your college/grad school aptitude testing skills, as just a couple hours of study per week can yield enormous results in admittances and scholarships.

On the weekend you might find me running with my dog, playing board games with my daughters, snowboarding, or just hanging out with a book. I love learning new languages and am working on a comedy script.

I hope I can help you reach new heights in learning!
Test Scores
ACT Composite: 30
ACT English: 31
ACT Math: 35
SAT Composite (1600 scale): 1400
SAT Math: 720
GMAT: 770
Hobbies
snowboarding, running with my dog, checking out concerts, perusing historical fiction, writing comedic scripts
Tutoring Subjects
GMAT Analytical Writing Assessment
GMAT Integrated Reasoning
GMAT Quantitative
GMAT Verbal
What is your teaching philosophy?
Early on in my life, I observed that an instructor who teaches (to) students makes little impact, as these lessons are simply foreign words and concepts that seem to have little relevance to the student. And so, ever since high school, I've been enthralled by the Socratic method. My sessions with students are much more like a conversation -- there are questions posited, incorrect statements (purposely made), suggestions given, and compliments doled out for a job well done. I love to interact with my students and help propel them toward the right methodology of the GMAT exam. This can never be done by pure instruction, but rather by experimentation and critical thinking.
What might you do in a typical first session with a student?
Everyone likes a little gab, right? It's important to spend a few minutes chatting about our backgrounds, families, etc., so we can understand just what drives the other person to succeed. Then, I usually like to administer an informal diagnostic to better sense areas of weakness and strength in the subject.
How can you help a student become an independent learner?
More important than the answer to any question is the road that led you to that answer. I love to ask provocative questions of my students, and push them to do the same to me. Only by using critical thinking to guide one toward better questions can independent learning really be achieved.
How would you help a student stay motivated?
Ultimately, motivation must come from within. And that's precisely why students must see the fruits of their labors frequently and deeply. I do my best to provide even lagging students with consistent cause for celebration, showing them their correct hypotheses and answers and congratulating them on their frequent jobs well done.