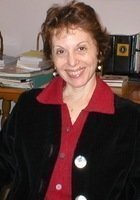 Nicki
Certified Tutor
I have been both a voice teacher and music therapist since 1980, and believe that singing is healthy for us emotionally, physically, and spiritually! I have a PhD in Music Education/Therapy, an MA in Vocal Performance, and have taught students at all levels, from beginners to graduate university vocal majors. My teaching credo is that anyone can benefit from singing. People may think they cannot sing because others have told them that. In most cases, by working on students' listening, musical, or motor skills, they can find their natural voice! I can also teach music theory, music history, music fundamentals, world music, and music and wellness.
Although my academic achievements are in music, my Jewish faith and studies are equally as essential to me, and I am glad to share my knowledge of Judaism and Biblical Hebrew with you.
Education & Certification
Undergraduate Degree: Duquesne University - Bachelor of Science, Music Teacher Education
Graduate Degree: Lamont School of Music - Master of Arts, Music
Graduate Degree: University of Kansas - Doctor of Philosophy, Music Therapy
Hobbies
I love to sing, and I play the piano, guitar, accordion and ukulele for accompaniment. Around the house, I enjoy drinking tea, cuddling with my cats, and listening to my pet finches hop and beep. I grow African violets because they are so very unique, just like my students!
Tutoring Subjects
Accordion
Hebrew
Music
Music Theory
Singing
Ukulele
Vocal Training
Voice