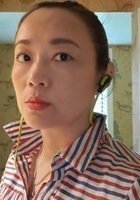 Danzo
Certified Tutor
I received my doctorate degree in Molecular Cell Biology from Washington University in St Louis. In addition to many years of teaching experience in medical and biology courses at college and postgraduate levels as well as tutoring biology for high school students, I also have well-rounded experience in biomedical research, from basic science to clinical research. With my unique and comprehensive background in medicine and biology, I can bring the best biology-related education to my students through the most relatable approach by encouraging them to be active learners. Because the ultimate goal of learning biology-related knowledge is to cure disease and help people. I am very passionate about the pursuit of knowledge and committed to the idea that all my students will reach their full potential through education. Most importantly, I am very patient and compassionate, because I understand and respect each individual's specialized strength.
Education & Certification
Undergraduate Degree: National Taiwan University - Bachelor of Science, Molecular Medicine
Graduate Degree: Washington University in St Louis - Doctor of Philosophy, Cellular and Molecular Biology
Test Scores
GRE Verbal: 162
Hobbies
In my spare time, I enjoy reading, music, panting, swimming and making videos to document my family's precious moments together.