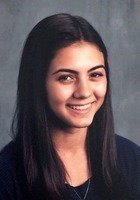 Emmanuella
Certified Tutor
I am a student at Rutgers University majoring in Philosophy. I am currently pursuing a Master's degree in K-8 Education with Mathematics specialization, anticipating graduation in 2023. I have independently tutored since age 16 for middle school and high school mathematics, including pre-algebra, algebra, and geometry. Most recently, I have worked as an Astronomy and Cosmology tutor for college students and have also done some virtual tutoring for second grade language arts and math. I am a tutor for both English and mathematics, although algebra is my favorite subject to tutor. I love to learn and am always striving to gain new knowledge or skills. When I first began to tutor at the request of a neighbor, I realized that I am also passionate about sharing my knowledge with others and helping them to see how fun it can be to gain deep understanding about a topic. I strive to develop a bond with each and every student I encounter and get to know how they best learn. When I'm not tutoring, I love to read, write, make art, and have recently been learning to code in Java.
Test Scores
SAT Composite (1600 scale): 1490
SAT Math: 730
SAT Writing: 760
Hobbies
I love to read, write, make art, go for walks, and spend time with my family. Recently I have been learning to code in Java and taking a summer course about prime numbers just for fun!