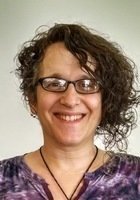 Christina
Certified Tutor
I graduated from Cornell University with a Bachelor of Science in Applied Physics and a Bachelor of Arts in Philosophy. I have 15 year of corporate experience as a engineer, scientist and marketing manager. I miss getting to do science on a daily basis and would like to help students in high school and entry level college course master these topics.

I have experience teaching at the middle school and high school level. I prefer to work with high school students and entry level college students. I have 4 years of tutoring experience at the college level.

I think physics is phun. Yes, I made a horrible pun but it is nonetheless true. I enjoy helping students master complex skills to make seemingly difficult problems easy. I have a deep knowledge of physics and math (the language of physics). I can help students by showing them a variety of ways to approach problems and how to break down the problem into smaller steps.

Math is the language of physics. I took 4 years of mathematics at the college level, fram calculus through mathematical physics.

I graduated with a degree in both Applied Physics and Philosophy. I spent the first 8 years of my corporate career as an engineer and senior scientist applying physic daily to help manufacture computer ships.

I look forward to working with students to help them learn how fun science and math can be. I am available weekdays, nights and weekends throughout the greater Austin area and online.
Education & Certification
Undergraduate Degree: Cornell University - Bachelor of Science, Applied Physics
Tutoring Subjects
Basic Computer Literacy
College Physics
Engineering
High School Physics
Special Relativity
Statics and Dynamics
Technology and Coding
Thermodynamics
Visual Basic