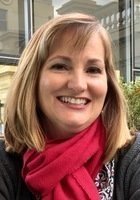 Jennifer
Certified Tutor
An AP English teacher for over 20 years, Jennifer also works for College Board and ETS scoring SAT essays and AP essays for over ten years now. Mrs. Barbknecht is an award-winning teacher who firmly believes that every student can learn how to be successful both in academically rigorous courses and on difficult standardized tests. Her students have earned perfect scores and gained admittance to Ivy League universities and colleges.
Test Scores
ACT Composite: 33
SAT Composite (1600 scale): 1543
Hobbies
Travel is my absolute love to do hobby. I have been pretty much everywhere except Antarctica. Reading, sewing, crafting, and creating lesson plans (yes, I really do love that!) are also big time fun to me.
Tutoring Subjects
American Literature
Business
College Application Essays
College English
College Level American Literature
High School Economics
High School English
High School Level American Literature
High School Writing
Middle School Reading Comprehension
Other
PRAXIS
STAAR EOC Prep
What is your teaching philosophy?
Teaching is all about figuring out how each individual student learns. I am very experienced at matching each student with a teaching or tutoring style that will work best. Plus, learning new things is fun!