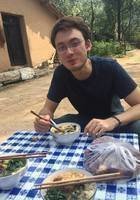 Thomas
Certified Tutor
I am a recent college graduate who loves teaching and helping students learn. I have experience teaching English in Argentina, as well as experience as a teaching assistant for various subjects at the Summer Institute for the Gifted.

Exploration drives much of what I do, and I believe that learning is a form of exploration - and I hope to share that mindset with my students.

As a tutor, I will be very patient, understanding, and thoughtful in my approach.
Test Scores
ACT Composite: 34
ACT English: 36
ACT Math: 33
ACT Reading: 31
ACT Science: 35
SAT Composite (1600 scale): 1550
SAT Math: 790
SAT Writing: 800
Hobbies
Running, swimming, playing piano, composing music, and traveling. I've been to 7 different countries!
Tutoring Subjects
Clinical Psychology
High School English
High School Writing
Mandarin Chinese 3
Middle School Reading
Middle School Reading Comprehension
Middle School Writing
Music
Software
Spanish 1
Technology and Coding
Violin