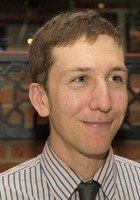 Gabriel
Certified Tutor
I graduated from Harvard University with a degree in History and Literature. I spent a year teaching in Harlem, New York, two teaching in Peru and three teaching in Colombia. Currently, I am studying to get my PhD at the University of Chicago. I have extensive experience teaching and tutoring a variety of ages and subjects (in particular, I have the most experience tutoring for the PSAT, SAT and college admissions essays, as well as math, English literature and Spanish to middle school students). My favorite subject to tutor is Math because it was my favorite as a child and adolescent. I love interacting and getting to know those students with whom I work because I believe that having a good connection and feeling comfortable is a key first step in a successful tutoring relationship. I enjoy walking all over the city and reading (often at the same time), as well as running, sports of all kinds, and coffee over a good conversation.
Test Scores
SAT Math: 800
SAT Verbal: 710
GRE Quantitative: 800
GRE Verbal: 720
Hobbies
Reading, running, sports, cooking and drinking coffee.
Tutoring Subjects
10th Grade Reading
10th Grade Writing
8th Grade Reading
8th Grade Writing
9th Grade Reading
9th Grade Writing
Adult Literacy
AP English Language and Composition
College English
Comparative Literature
Conversational Spanish
Elementary School Math
GRE Subject Test in Mathematics
GRE Subject Tests
High School English
High School Writing
Middle School Reading
Middle School Writing
Shakespeare
Spanish 1