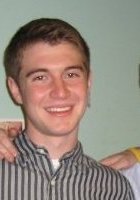 Lee
Certified Tutor
I recently finished my M.S. in Biomedical Engineering at Northwestern University. I am staying in the Chicago area because I truly love the city and envision staying here for a long time.

As a tutor, I have had students ranging from sophomores in high school to adults transitioning into a new career. My Engineering curriculum at Northwestern was heavily centered around Math, Chemistry, Biology and Physics, so I can work with a student on more than one class at a time. I also have a lot of experience with test prep and love working with students who need help with standardized tests.

I'm a laid back individual, but I like to push my students. I know that every student is able to do well and I really enjoy helping them along their path to success. But being laid back, I am also good at relaxing a student and helping point out what is important and what is not.

In my free time, I enjoy writing music. I am also a die hard Packers fan originally being from Green Bay, and a Bulls fan.
Hobbies
I play the piano, was in an a cappella group at Northwestern, and am a die hard football fan