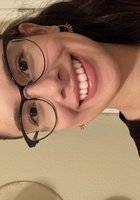 Nancy
Certified Tutor
In 2018 I took my NCLEX exam and passed. That knowledge was the foundation to working as a nurse in a hospital.
Nursing school is hard, so let me be your guide so you can avoid mistakes and teach you tips and trick to make life easier.
Im bilingual been speaking in spanish all my life I'll be happy to help you improve your spanish and get you a higher grade!
I love questions! No such thing as a stupid question. I am happy to be a tool in your toolbox to reach your goals.
Hobbies
Working out, dancing, cooking and tutoring Nursing and Spanish!