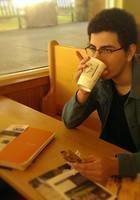 Metin
Certified Tutor
I am a graduate of Williams College with a degree in Economics and German. I have started my German education nearly 10 years ago, with my elementary school education. I was lucky enough that I didn't hate it, and could continue my education all the way into college, and then into Germany. Besides being a German major at college, I have lived in Germany for a full year as a visiting student at the Free University Berlin. Having had German roommates, classmates, and close friends, I fell in love with Berlin that year. I will be going back there to continue my studies next year.

As a speaker of three languages, I spent a long time thinking about how to phrase things in different languages, that I can better imagine what a learner is going through in their mind. This helps me explain concepts in ways that would fit the already-existing thought processes the learner has in mind. I believe everyone can learn a language, but not everyone may not teach effectively, as it takes empathy to get to someone's head. A common problem with learners is that they form sentences in ways they would in their native languages. With a little guidance, learners can easily correspond expressions in their native language

As a tutor, I tutored for the German department at my school at the beginner and intermediate levels. Due to my formal education in the language, I am familiar with a variety of textbooks that might be needed on the way. But I primarily like using more conversational methods, especially with higher level students, because I find engagement on a more creative, personal level more efficient than following written exercises from a textbook. I try to use interesting material for this purpose, such as news articles, interviews, and elements of social media.



Education & Certification
Undergraduate Degree: Williams College - Bachelors, Economic/German Language
Hobbies
Literature, politics, history, soccer