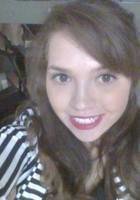 Alyssa
Certified Tutor
My name is Alyssa and I recently moved to Columbus from Texas. I graduated with my BS in University Studies in August 2015 with focuses in Chinese Language and Culture, Business and Psychology. I lived for two years in Chengdu, China where I studied Mandarin Chinese and taught EFL to children in both home and classroom settings. I have experience working with children with Autism as well as children and adults with CP. I have served as a volunteer with several therapeutic riding programs and enjoy learning to dance, primarily American Style ballroom. My hobbies also include studying languages, religions and learning about other cultures. I enjoy teaching and feel that education is one of the most important things that a person can obtain yet one of the things most taken for granted and under appreciated throughout our youth.
Hobbies
ballroom dance, foreign languages, travel, psychology, documentaries
Tutoring Subjects
College English
High School English
Other
What is your teaching philosophy?
There are different styles of learning, and as a tutor it is my job to make certain that I'm explaining the topic in a way that is understood by the student. We all make mistakes, but if the student doesn't comprehend a subject then it's time to try a different approach. Student success is more important than the educator's ego.
What might you do in a typical first session with a student?
In a first session, I would try to get a read on how a student learns, what they like and try to sort out how that can be incorporated into our lessons in order to maintain student interest. What their ultimate goal is plays a large factor in this.
How can you help a student become an independent learner?
I can help a student become an independent learner by providing them with strategies to meet their goal in order to maintain motivation. If there's no goal then there is no motivation and no reason to want to learn.
How would you help a student stay motivated?
If a student hits a wall, they slowly begin to lose motivation. Encouragement helps in moving past this as well as providing material that might prove more interesting to the student.
If a student has difficulty learning a skill or concept, what would you do?
If a student has difficulty learning a skill or concept then I would change my approach until I could find a way to present the subject matter where it is easier for the student to comprehend.
How do you help students who are struggling with reading comprehension?
With students struggling with reading comprehension, I would ask them to retell the story in their own words and then break down the parts of the story which they are having difficulty with in order to explain it more thoroughly.
What strategies have you found to be most successful when you start to work with a student?
Establishing rapport with a student and appealing to their interests always helps when it comes to teaching someone for the first time.
How would you help a student get excited/engaged with a subject that they are struggling in?
With younger students, a high energy level and turning it into a game helps to engage them in the subject. With adults, finding a reason for them to learn the matter helps to motivate them.
What techniques would you use to be sure that a student understands the material?
I would ask questions over the subject matter and have a student demonstrate its use, such as a new word in a sentence. Most skills are learned through actually making use of the subject matter and teaching the matter back is one way to do that.
How do you build a student's confidence in a subject?
Encouragement without condescension is the best way to help build a student's confidence when first starting out.
How do you evaluate a student's needs?
By identifying the target goal, listening, asking questions and seeing what their current level is.
How do you adapt your tutoring to the student's needs?
If one approach isn't working then I switch to another one until a good fit is identified.
What types of materials do you typically use during a tutoring session?
The materials used are generally suited to the student. If the student is an auditory learner then music and more lecture is utilized, if the student is a visual learner then lots of pictures, if the student is a kinesthetic learner then far more physical activity and hands on activities will be used.