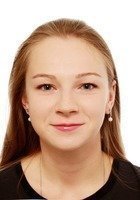 Maria
Certified Tutor
I am taking an academic break before enter an accelerated PharmD program. I graduated from BHCC in Boston this May. I came to US in 2014 from Ural Mountains in Russia. Being there, I have finished strong lyceum with extra mathematical classes including geometry, solid geometry, trigonometry and calculus. I am a very helpful math tutor at my college, not only because I enjoy solving different kinds of mathematical problems, but because coming from overseas I know many different ways to explain and approach students' problems.

Mathematics is a language of science. After I learned this language pretty well, I decided to use it for my future education. My goal for coming years is gaining biotechnology knowledge which includes biology, chemistry and physics. From the college I master new procedures, laboratory techniques daily; I hope to add those subjects to my tutoring in the future. I want to be a part of Varsity Tutors to gain knowledge not only from the college. Working with people from different backgrounds allows to exchange experiences quickly and use new information for own benefits. Back in high-school, my private chemistry teacher decided to open a school for gifted children 4 years ago. She hired me as her assistant to the school, where I created presentations for students to explain organic chemistry concepts. With a bit of motivation I can explain functional groups, isomeric structures again.

Before knowing language of mathematics, I was taught Russian. Many people in my life have cultivated big love to Russian language and literature. That is why I wrote and defended regionally my first scientific project about paronomasia as a problem of modern language. Together with the head of the Russian department at my school, I created the first local newspapers among students and teachers in my city. I am still publishing diverse articles there to speak with students about current problems they are afraid to speak about themselves. If some of your students have interest in learning Russian language, I assure to teach them the best Russian preserving its spirituality and beauty.
Hobbies
Poetry, Literature, Paintings, Science
Tutoring Subjects
College Chemistry
High School Chemistry
Homework Support
Other
Study Skills
Study Skills and Organization
Summer
What is your teaching philosophy?
I never say the answer to the students right away. All of them come to the solutions by themselves. My role as a tutor is to direct students. I see each student as a river and I am only changing its flow.
What might you do in a typical first session with a student?
Give him a test to evaluate not his knowledge, but to find missings on which we should work in the future.
How can you help a student become an independent learner?
All of my students getting the answers by themselves, that is why they are already independent. I only direct them by providing knowledge they do not have.
How would you help a student stay motivated?
If I am a tutor and they make a choice to come to me, students are already motivated because they want to work with me and learn. If student hasn't chosen to come, but occurred to be in my class, I will show him or her how knowledge from the class can benefit them in every day life.
If a student has difficulty learning a skill or concept, what would you do?
I am expla
What strategies have you found to be most successful when you start to work with a student?
I am explaining concepts by visualizing them. For example, at the beginning of studying solid geometry most students are experiencing difficulties in distinguishing frame of references. I am offering them to solve the problem with a cube, but instead of drawing a picture in the notebook, I am asking them to look to the room and choose the door, wall and floor as their frame of reference in accordance.
How would you help a student get excited/engaged with a subject that they are struggling in?
By finding connections between a subject that a student likes and between the one he or she struggles with.
What techniques would you use to be sure that a student understands the material?
By giving him an old problem, which he or she already solved in the past and ask the student only to solve this problem using new method or material we have covered.
How do you build a student's confidence in a subject?
I am not trying to open all the doors, when explaining a new concept. This allows students to come up with questions they were not going to ask before.
How do you evaluate a student's needs?
I encourage students to solve problems on related topics from alien sources, which were not covered in class or offered as homework. I also ask students, who are afraid of a coming exam to solve 5 random problems from new textbook or internet in a row. It takes 15 minutes max and if they find a mistake in those 5, I tell them to study more. However, if they do not, they are ready for upcoming quiz or exam, in my opinion.
How do you adapt your tutoring to the student's needs?
When coming to school I was a student. When coming out of the school I was a young writer. Back in Russia, I am an older sister, here I am an international alien. On Mondays I work as a math tutor, on Tuesdays I am accepting students to the college and on Wednesdays I am a researcher for my physics project. Adaptation is not new for me, and as easily I adapt myself for the environment, exactly the same I adapt my teaching to the students.
What types of materials do you typically use during a tutoring session?
A pen and A4 clean sheets.
How do you help students who are struggling with reading comprehension?
If they have a question about specific problem and are also struggling with reading comprehension, I simply do not read the problem. Students "have to" tell me the problem in their own words, so I can direct them to the correct solution.