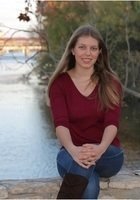 Jennifer
Certified Tutor
I'm a current student at Smith College working towards my degree in Education & Child Studies and Theatre. I've been tutoring for many years and I have experience working with children of all ages and ability levels--from profoundly gifted students to students struggling with learning disabilities. I believe every student has the potential to succeed, it is just a question of finding the right entryway into the material. Since teachers don't always have the time to work individually with every student, that's where a tutor comes in!

I'm a strong advocate for Carol Dweck's growth mindset theory of education, encouraging students to learn and grow from their mistakes rather than becoming discouraged and giving up. When I was in high school, I struggled a lot with math, and this caused me to view myself as a failure. Working with my own tutors and teachers helped me realize that I am capable of overcoming difficulties through perseverance, and that's a skill that I want to pass on to the students I tutor. Everyone makes mistakes and has struggles, but the important thing is that you can move past those roadblocks.

As a tutor, I try really hard to help students connect the material they are studying inside the classroom to their passions outside the classroom. Sometimes all that's needed to make the material "click" is seeing how it is relevant to their own lives. My personal interests include theatre (especially Shakespeare), reading and writing, arts and crafts, baking, and outdoor activities with my dog. My favorite subjects to tutor are English, writing, and SAT prep, and my favorite part of being a tutor is seeing the "Aha!" moment when a student finally understands something that didn't make sense to them before.
Education & Certification
Undergraduate Degree: Smith College - Current Undergrad, Education and Child Studies and Theatre
Test Scores
SAT Composite (1600 scale): 1550
SAT Math: 720
SAT Verbal: 760
SAT Writing: 800
Hobbies
theatre, Shakespeare, knitting, baking, arts and crafts
Tutoring Subjects
10th Grade Reading
10th Grade Writing
11th Grade Reading
11th Grade Writing
12th Grade Reading
12th Grade Writing
1st Grade
1st Grade Math
1st Grade Reading
1st Grade Writing
2nd Grade
2nd Grade Math
2nd Grade Reading
2nd Grade Writing
3rd Grade
3rd Grade Math
3rd Grade Reading
3rd Grade Writing
4th Grade
4th Grade Math
4th Grade Reading
4th Grade Writing
5th Grade
5th Grade Math
5th Grade Reading
5th Grade Writing
6th Grade Reading
6th Grade Writing
7th Grade Reading
7th Grade Writing
8th Grade Reading
8th Grade Writing
9th Grade Reading
9th Grade Writing
Adult Literacy
College Application Essays
College English
Comparative Literature
Elementary Algebra
Elementary School
Elementary School Math
Elementary School Reading
Elementary School Writing
Fiction
Fiction Writing
High School English
High School Writing
Homework Support
Middle School Reading
Middle School Reading Comprehension
Middle School Writing
Other
SAT Verbal
Shakespeare
Spelling Bee
Study Skills
Study Skills and Organization
Summer
Vocabulary