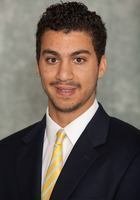 Dore
Certified Tutor
I graduated from UC San Diego with a Bachelor of Science degree in Physiology and Neuroscience and minors in Psychology and Hebrew Language and Literature. Throughout my time in college, I continued to work on study methods to help me maintain a high level of understanding of topics while enjoying the process of learning as well. Being able to figure out what study methods worked best for me (regardless of the subject I was studying) is the reason that I believe I was successful in my undergraduate studies and is crucial in any kind of learning in my opinion.

I strongly feel that focusing on what a person enjoys and using their strengths toward their advantage is the only way to help someone truly learn well and recall information correctly. This is the type of strategy that I would like to employ when I tutor your child. Because everyone learns differently, I will need to speak to the parents before the first tutoring session.

The first thing I'd like to do is get to know your child by speaking to you. I would like to understand what your child enjoys to do (hobbies, sports, etc.) and what you feel is the best way your child learns. After I have a better understanding of who your child is, I will attempt to incorporate the things that your child enjoys to make the tutoring session much more fun and exciting. Whether it's through visuals, references or mnemonics, I will try to discover what works best and will continue using this method to teach your child the subjects that your child struggles with. My hope is that your child will continue to use and develop these methods of learning that they enjoy on their own as well so that one day they too can apply it to any future subject that they might struggle with.

In my spare time, I enjoy sports (especially basketball), Krav Maga, the beach, traveling and meeting new people. I look forward to speaking to you and helping your child succeed in school and to help create a better path for your child to learn.

Hobbies
I enjoy sports (especially basketball), Krav Maga, the beach, traveling and meeting new people.
Tutoring Subjects
6th Grade Math
7th Grade Science
8th Grade Science
Anatomy & Physiology
College Biology
College Chemistry
Elementary School Math
Hebrew
High School Biology
High School Chemistry
Middle School Science
What is your teaching philosophy?
For me, tutoring is very specific to what your child needs. Whenever I tutor, I like to figure out what learning style best suits them based on your preferences and based on what your child feels works best. Together, I hope to help your child better understand whatever subjects he/she needs in order to continue to excel academically.
What might you do in a typical first session with a student?
I would like to get to know the student better by first speaking with the parents. After I feel like I have a better understanding of what they want, I will sit down with their child and see what works for her/him. Depending on the subject and on the child, I would like to mix humor and visuals to help solidify concepts.
How can you help a student become an independent learner?
I can help a student become an independent learner by exposing him/her to a lot of different and diverse resources, mixing in humor, visuals and mnemonics as well as building on his/her strengths while continuing to motivate him/her.
How would you help a student stay motivated?
Always trying to bring things that interest him/her with regards to the subject at hand. Also seeing what works with a trial and error system and rewarding the child with breaks or other treats.
If a student has difficulty learning a skill or concept, what would you do?
Firstly, try to find the way he best learns. If he/she is a visual learner, than I might add some videos or pictures. If they like music, maybe we can try to piece together a rhyme or something that can help him/her remember and understand the concept. All in all, my priority is to first understand what best works and then use their strengths to their advantage
How do you help students who are struggling with reading comprehension?
I think it would be best to build on what has been working with the student thus far. Start reading things that they like or they seem to understand better. Then slowly work on expanding the variety of materials read and have them use the same methods they have learned to understand the reading.
What strategies have you found to be most successful when you start to work with a student?
I think the most important thing is to get them to like you and enjoy the process of learning. Some kids believe that tutoring may not be as fun, but once you make it an enjoyable experience for them, they really begin to enjoy the process. In my mind, that is where the real success and learning takes place.
How would you help a student get excited/engaged with a subject that they are struggling in?
It depends on what works best for the student and what they like. If they are more visual, use videos and pictures to help make a point. If they like music, try to make a song about the material. Whatever it may be, I like to cater my style to the way the student feels most comfortable learning in.