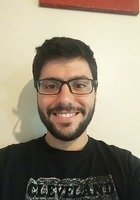 Brandon
Certified Tutor
I graduated the University of Pittsburgh with a degree in Politics & Philosophy, and I moved to Cleveland to teach. I've spent the last three years in classrooms with the last year dedicated to subbing and working with different types of students and in different subjects. Most of my experience comes in teaching Reading and Writing, and I have helped students of all ages improve both their real life skills in those subject areas and their test scores. I have also tutored kids who did not speak English to help them increase their speaking and writing skills. I can tutor math up to Algebra II, and I have experience teaching math in the classroom. Lastly, I can tutor in the Social Sciences, particularly AP Government and AP US History, as I majored in those subjects in college.

I really enjoy tutoring test prep subjects, because the time spent applying for college is so exciting and stressful. It is very easy to create a goal and work toward it when a student already has their sights set on a particular college, and I love being a part of that process. I like to think of myself as a goal-oriented tutor, helping my client pick out the thing that he or she wants by the end of our sessions and driving toward it. I also believe in meeting my client where they are in their subject matter and helping them learn in their particular individual style. It does not matter how my client learns, whether it is verbal or visual or even kinesthetic--I try to accommodate and ensure that they know the material the way they will remember it best.

Aside from teaching, my interests include music and cooking. I grew up listening to punk rock, and in the process, I learned to play guitar and drums. At this point though, I listen to just about everything including hip-hop, electronic music, country, and pop. I also enjoy cooking and learning to make cuisines from other cultures. Lately, I have been trying to master Lebanese food. Lastly, I like to travel. I have been all over the USA and Western Europe, and I have even made it to the Middle East.
Test Scores
ACT Composite: 33
ACT English: 34
ACT Reading: 35
ACT Science: 35
SAT Composite (1600 scale): 1380
SAT Verbal: 740
GRE Verbal: 162
Hobbies
Making music, cooking, exploring cities, fixing bicycles
Tutoring Subjects
AP Economics
AP US Government
AP US History
Civics
College Economics
College English
Comparative Literature
Elementary School Math
High School Economics
High School English
Macroeconomics
Political Science
Social Sciences
US History
What is your teaching philosophy?
I believe that every student is an individual, with their own specific style that they need for success. I also believe that every student can be successful, especially if they put in the work. For that reason, I always try to individualize my instruction in a way that will help my students and make them successful.
What might you do in a typical first session with a student?
It's important to get to know my students and ask them important questions like what they do outside of school. I also try to get a sense of what their goals are, both for the tutoring session and their next step, whether it's college or a job. If the student is doing test prep, I also introduce the test and explain how to think through it.