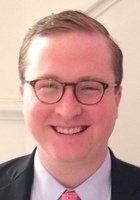 Will
Certified Tutor
I am a Chicago native who is studying for the bar after graduating cum laude from Northwestern University Law School this May. I studied at St. Ignatius College Prep and graduated summa cum laude from Villanova University (including a two-term stint at Cambridge University). Between Villanova and Northwestern I worked at an academic non-profit organization and evaluated hundreds of fellowship candidates' writing and academic work.

I will work with each student to craft a personalized plan of study and improvement based on the student's strengths and challenges.

Hobbies
I enjoy reading novels, skiing, and playing racquet sports.