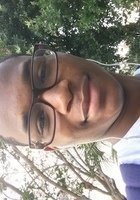 Unique
Certified Tutor
I am a graphic designer, web designer, and frontend developer whose also a graduate of Valencia College. I have obtained two Associates in Science degrees; one in Graphic Design and the other in Interactive Design. I have a passion for gathering and passing on knowledge because I believe it provides growth and opens opportunities for people. I also have a passion for Design, English, and Literature which is why I have chosen to tutor those subjects. It allows me to share my passion with others while helping them grow and succeed in life. These passions are a huge part of my life; both work and personal, and make up a core part of me.
Education & Certification
Undergraduate Degree: Valencia College - Associate in Science, Graphic Design
Hobbies
I enjoy writing poetry, designing websites, playing video games, and learning new ways to strengthen or add to my skills.