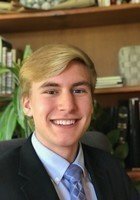 Thomas
Certified Tutor
I am currently a freshman at Providence College, studying Finance and Accounting through the Honors Program. Prior to my studies at Providence, I graduated from New Milford High School in the top 5% of the class. Throughout high school I helped tutor my fellow peers through the Math honors society and National Honors society. I also tutored students from grades 1-8 through the Homework club. Through these experiences I have seen the joy that learning brings to students lives, and in turn brought so much happiness to mine in seeing these students excel. I am enthusiastic to tutor a broad range of subject and am particularly passionate about mathematics. Being a freshman in college, I have recently gone through the standardized testing process myself and am eager to share my knowledge to help relieve the stress of test taking, by preparing my students for the material and showing them techniques needed for success. Through my experiences as a student and tutor I have learned the value and felt the joy that education brings to so many, and seek to spread it to my students.
Education & Certification
Undergraduate Degree: Providence College - Current Undergrad Student, Accounting and Finance
Hobbies
Outside of the classroom I love to hike on the Appalachian trail, play basketball and frisbee, and play the piano.
Tutoring Subjects
AP US History
Business Calculus
College Economics
High School Accounting
High School Business
High School Economics
SAT Verbal