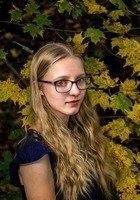 Christa
Certified Tutor
I am currently an honor student at Augsburg University. I am majoring in English and Political Science and minoring in Spanish.
I am particularly excited about tutoring students in English and reading. These are my favorite subjects and I would love to ignite a passion for these areas in other students as well.
I have personal experience in tutoring for the ACT. I scored a 36 on both the reading and English portions of the ACT. I was also ranked in the top 5% of students who took the PSAT.
Essay writing is another specialty of mine. I have qualified for the National Speech and Debate Association tournament and have helped students write speeches and essays, as well as helping them improve their public speaking skills.
I believe in the importance of education. I want to prepare others to reach success in their lives in whatever career or school they go on to. I am willing to meet students at the skill level they're at and am excited to grow with them.
Education & Certification
Undergraduate Degree: Augsburg College - Bachelor in Arts, English
Test Scores
ACT Composite: 32
ACT English: 36
ACT Reading: 36
Hobbies
I am passionate about reading, writing, speech, debate, traveling, biking, politics, and theater.
Tutoring Subjects
Adult Literacy
American Literature
College Application Essays
College English
Conversational Spanish
Elementary School
Elementary School Math
Elementary School Reading
Elementary School Writing
High School English
High School Level American Literature
High School Writing
IB History
IB Language A: Language and Literature
IB Mathematics: Analysis and Approaches
IB Psychology
Middle School Reading
Middle School Reading Comprehension
Middle School Writing
Other
Social Sciences
Spanish 1