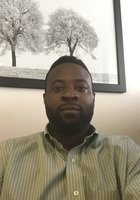 Eric
Certified Tutor
Eric Credle is a Math teacher with over 7 years of Middle School and High School teaching experience. He also has over 2 years of experience tutoring students to reach their perspectives goals on the SAT and ACT in the Math, English, Reading, and Writing sections. Mr. Credle served the students at Charles A. Tindley Accelerated School for 2 years as a teacher of Geometry and provided Administrative support. Eric also taught Algebra I and Pre-Calculus at Arlington High School. In over 7 years as a teacher and leader in education, Eric has taught Middle School Math for 3 years at Arlington High School, spent 1-year teaching adults Algebra I at The Excel Center in Anderson, Indiana, and also worked 2 years in administration at Fall Creek Academy serving as the Director of School Culture.
Born in Virginia, Eric moved to Indiana at a young age. Immediately after graduating from high school, Eric joined the Indiana Army National Guard. Eric credits the Army for developing him into a leader and instilling discipline within him. Eric went on to spend a total of 8 years in the Indiana Army National Guard, which included a 6-month activation to provide Homeland Security at the Newport Chemical Depot, earning him US Veteran status.
A graduate of Indiana University Bloomington, Eric is an Alpha Chapter member of Kappa Alpha Psi Fraternity Inc. He went on to further his education by earning his Master's Degree in Teacher Education from Marian University. Furthermore, Eric completed The Academy for Teaching and Learning Leadership Program at Marian University which is a 2 year building level administrator program designed to develop future leaders in education.
Eric also has a passion for athletics. He served as the Middle School Athletic Director at Arlington High School and is responsible for bringing Elementary and Middle School athletics to Fall Creek Academy, where he also served as the Athletic Director. He also enjoys traveling, listening to music, exercising, and being a positive role model to our youth. Eric has a 12-year-old daughter, Imani Lanae Credle and a 1 year old son, Jaxon Amarr Credle.

Hobbies
Running, Sports, Travel, Teaching Math, Hiking