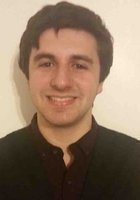 Daniel
Certified Tutor
I think language learning is important. When learning another language the most important thing is to be able to communicate your idea, many students are just taught to regurgitate phrases and vocabulary without any use for it. Language is learned through interaction with others. Being able to speak another language means you can communicate. You can explain your idea. Learning simple phrases, which have their uses especially for a tourist, but when using the language it's more important to be able to communicate. It can be a lot of fun, I can teach Spanish students more than asking how to go to the bathroom. Learn about TV, movies, music, food and more all while learning Spanish!

I have worked with several ESL students from different backgrounds and ages. Much like Spanish, sitting in class and learning phrases does not teach a lot. Students learn more through using the language and learning through things like TV, movies, tv, etc.

I have studied Spanish for well over 8 years, I am currently a Spanish major at Salem State University, and tutored several students in college in the Spanish language, including students whose first language is not english. I have worked with ESL/ELL students in elementary schools as a one on one tutor. I worked as an English teacher teaching English to high school students studying abroad here in America. I received an advanced score on my AAPPL (Assessment of Performance toward Proficiency in Languages) from American Council on the Teaching of Foreign Languages. In college I have taken classes dedicated to Spanish tutoring and other education classes.

I have tutored many students who were studying for their exams as well as students who wanted to improve their language skills. I worked with students of various levels in Spanish, some advanced and some beginner students.
I am a very patient tutor and I am willing to explain something several times and will explain in other ways that best suit the student's understanding. My biggest concern when tutoring/teaching is that they understand the content. I have strategies I teach students to understand the more complex topics in language. Learning a language does not have to be boring.
It can be a lot of fun and interesting! Sitting around and memorizing and repeating phrases doesn't teach much. I teach through using the language through interaction, music, TV, etc.
Hobbies
Reading, movies/tv, travel, cooking