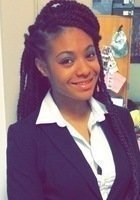 Nadejeh
Certified Tutor
I am a 3rd Year 5-Year MBA Major, Leadership Studies Minor attending Hampton University. I have been working with youth since my freshman year in high school. I have a passion for helping others so that they can accomplish goals beyond what the eyes may see.
Education & Certification
Undergraduate Degree: Hampton University - Current Undergrad, 5-Year MBA
Hobbies
Music, dance, cooking
Tutoring Subjects
Business
Elementary School
Elementary School Math
Elementary School Reading
Elementary School Writing
Financial Accounting
High School Business
High School Writing
Macroeconomics
Middle School Reading
Middle School Reading Comprehension
Middle School Writing
Other
What might you do in a typical first session with a student?
The first session will be a meet and greet between the student and I. This will award me the opportunity to see what his or her strengths and weaknesses are, as well as interests that can be used to assist them in their subjects.
How can you help a student become an independent learner?
This can be accomplished by connecting their subjects to real-life experiences and interests. This strategy will help in the student seeing their subjects less like work and more like fun.
How would you help a student stay motivated?
Motivation can be provided through incentives and also connections to their favorite person or sports. Motivation is individualized based on the student.
If a student has difficulty learning a skill or concept, what would you do?
Patience and diluting. By diluting, I mean simplifying the subject into sections and allowing the student to grasp each part separately, and then combined.
How do you help students who are struggling with reading comprehension?
Reading can be a game, by making book or passage fun. My old teachers would make connections for me to help me better understand what I was reading.
What strategies have you found to be most successful when you start to work with a student?
Be stern and sweet so that the student knows you're serious but also feels comfortable. I'll inform the student that it is alright to need help, because we all need help sometimes.
How do you build a student's confidence in a subject?
Practice and patience. If you encourage them, it will boost their confidence. Most who are discouraged are because someone made them feel as if they are incapable.
How do you evaluate a student's needs?
Evaluation can be done by simple discussion and a fun activity. If they are comfortable, the subject of school can be introduced, and then the truth will come out on what they struggle with.
How do you adapt your tutoring to the student's needs?
I understand that everyone learns differently. I am a flexible teacher, so not matter what the need, I can provide it. My evaluation of their needs will determine my approach.
What types of materials do you typically use during a tutoring session?
Pictures, objects like blocks or Cheerios, imitation money, even coloring techniques can all be used based on the subject and the student. I want the sessions to be fun and informative.
What is your teaching philosophy?
Everyone is teachable, but not everyone can teach. A good teacher is one who understands everyone is different, so everyone must be taught differently.
How would you help a student get excited/engaged with a subject that they are struggling in?
Interactive learning is key; most students struggle because they are bored. By connecting the subject to a topic they enjoy, it will take away the pressure.
What techniques would you use to be sure that a student understands the material?
Games, music, even dance. Whatever it takes to help the student will be done, because their comprehension in the end is the most important.