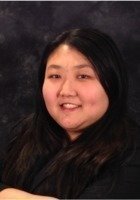 Jeanna
Certified Tutor
Hello, my name is Jeanna. At a young age, my parents foster a profound belief that a good education was crucial to your future. Since then, I have tried to encourage other students to strive for academic achievement. I graduated from the University of Florida with a Bachelor of Science in Psychology. I also received my TEFL certificate in 2012. I have taught English in South Korea for two years at an after-school academy. Since then I have also taught debate and juvenile justice civics class to middle school and high school students. I am pleased to make your acquaintance and look forward to teaching your child.
Hobbies
Soccer, Swimming, Tae Kwon Do, Reading, Baking, Knitting
Tutoring Subjects
Adult ESL/ELL
College Application Essays
College English
Conversational Spanish
Elementary School
Elementary School Math
Elementary School Reading
Elementary School Writing
High School Chemistry
High School English
Korean
Middle School Reading
Middle School Reading Comprehension
Middle School Writing
Social Sciences
Spanish 1
Spelling Bee
Study Skills
Study Skills and Organization
How would you help a student get excited/engaged with a subject that they are struggling in?
I would try to make it relatable by connecting it to one of his or her interests, hobbies, or passions.
What techniques would you use to be sure that a student understands the material?
I would have them explain the concept to me or role play that they are the teacher, and I am the student. If one can teach it to somebody, it means he or she fully grasps the concept.
How do you build a student's confidence in a subject?
Start off with simple basic questions, and reexamine the stuff they already know. Keep encouraging the student, and praise every success and progress they make.
What is your teaching philosophy?
To make it as interactive and hands on as possible. Patience as well as independent thinking to my student-centered philosophy is how I teach.
What might you do in a typical first session with a student?
I would try to assess their level in the subject, their strengths and weaknesses. I would briefly introduce myself and have them introduce themselves. I would review their syllabus and past notes as well as where they are now in the class. I would go over goals and expectations.
How would you help a student stay motivated?
By making the materials relatable and interactive. I would show them real world applications of what they are learning and explain why this topic/subject is important. I would also set up a reward system if they are showing progress.
How can you help a student become an independent learner?
I would allow them to think for themselves. I would first like to let them solve the problem by themselves and think it out loud independently. Afterwards, we would review how they got to that answer and demonstrate how to go through that process again.
What types of materials do you typically use during a tutoring session?
I will use whatever is available to the student. I will sometimes create my own problems or find additional problems on the internet. I may use the materials given to them by their school. For younger students, I will use mnemonics and other similar learning aids to assist them.