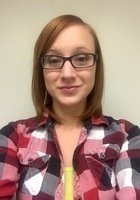 Heather
Certified Tutor
I have a strong passion for knowledge and learning that has evolved into a desire to help students achieve academic success. I place a high value on education, which has led me to seek a career in teaching and tutoring. I am currently a substitute teacher for Clark County School District, predominately working with grades K-8. I have experience tutoring with two different institutions, as well as on a private basis. I am a graduate of the University of Nevada Las Vegas. I graduated Summa Cum Laude with a Bachelor of Arts in Psychology and also received a Master of Science in Clinical Mental Health Counseling. I have tutored in a wide variety of subjects, though most of my experience is with primary and secondary students. I also tutor in test prep, including ACT Reading/Writing, SAT English/Biology, and Nevada state proficiency exams. I am most passionate about teaching psychology, English/writing, reading, and elementary/middle school math. My individual teaching style is flexible, as I feel it is necessary to cater towards a students unique learning style and needs. I believe confidence and self-efficacy play pivotal roles in a students acquisition of knowledge and ability to learn new concepts. I believe it is crucial to provide encouragement, reinforcement, and support to help students realize their unique gifts and potential. In my free time, I enjoy reading, hiking, spending time with my family, and painting.
Education & Certification
Undergraduate Degree: University of Nevada- Las Vegas - Bachelors, Psychology
Graduate Degree: University of Nevada-Las Vegas - Masters, Clinical Mental Health Counseling
Hobbies
Reading, collecting comic books, hiking, volunteering, jogging, drawing/painting, attending concerts, and watching movies
Tutoring Subjects
1st Grade
1st Grade Math
1st Grade Reading
1st Grade Writing
2nd Grade
2nd Grade Math
2nd Grade Reading
2nd Grade Writing
3rd Grade
3rd Grade Math
3rd Grade Reading
3rd Grade Science
3rd Grade Writing
4th Grade
4th Grade Math
4th Grade Reading
4th Grade Science
4th Grade Writing
5th Grade
5th Grade Math
5th Grade Reading
5th Grade Science
5th Grade Writing
Adult ESL/ELL
Adult Literacy
American Literature
CLEP Prep
CLEP Introduction to Educational Psychology
CLEP Introductory Sociology
Clinical Psychology
College Application Essays
Criminal Law
MCAT Critical Analysis and Reasoning Skills
ECAA Prep
Elementary School
Elementary School English
Elementary School Math
Elementary School Reading
Elementary School Science
Elementary School Writing
ERB CPAA
ERB CTP
ERB WrAP
Ethics
GATE/ TAG Prep
High School Biology
High School Chemistry
High School English
High School Geography
High School Level American Literature
Homework Support
Human Development
K-11th Grade Standardized Tests Prep
Law
Life Sciences
MAP Prep
Middle School English
Middle School Reading
Middle School Reading Comprehension
Middle School Science
Neuroscience
NNAT Prep
OLSAT Prep
Other
PARCC Prep
Philosophical Ethics
MCAT Psychological, Social, and Biological Foundations of Behavior
SAT Subject Test in Biology E/M
SAT Subject Tests Prep
Social Sciences
Social Work
Spelling Bee
Study Skills
Study Skills and Organization
TOPS Prep
What is your teaching philosophy?
I feel one's teaching style should be flexible enough to cater to each individual student's needs. I believe that teachers are influential in a student's academic development, and should take their positions seriously.
What might you do in a typical first session with a student?
I believe the first session should focus on developing trust and rapport with the student. I would introduce myself and ensure the student had adequate time to become comfortable with me as a tutor. I would also gather information on the student's academic strengths and weaknesses.
How can you help a student become an independent learner?
I can help students become independent learners by providing encouragement, positive reinforcement, and effective feedback. I would help students increase their self-efficacy by assisting until they have the confidence to tackle problems on their own.
How would you help a student stay motivated?
I feel by catering to the student's specific academic needs and learning style, one can help students enhance their motivation and remain excited about gaining knowledge.
If a student has difficulty learning a skill or concept, what would you do?
I may backtrack to a simpler but related concept so the student can gain a boost of confidence and a reminder that he/she is capable. I would also provide support so the student did not become too discouraged to proceed. I would also ask the student what specifically he/she is struggling, so we can both decide the best way to approach the new skill.
How do you help students who are struggling with reading comprehension?
I typically tend to ask questions related to the story that may enhance the student's ability to focus on key events and details. I may also encourage the student to re-read the story, and highlight/underline key details. I would also provided continued support and encouragement.
What strategies have you found to be most successful when you start to work with a student?
I feel it is important to ensure the student feels safe and comfortable in the learning environment. I also like to learn a little about the student's interests and academic needs.
How would you help a student get excited/engaged with a subject that they are struggling in?
I believe excitement about certain subjects is related to confidence level; I would provide support and encouragement to help increase the student's self-efficacy. I would also cater my teaching to the student's style. For example, if the student enjoys music and is struggling with world history, we could create a song that would be both fun and enhance memory retention.
What techniques would you use to be sure that a student understands the material?
I always prefer to check back with students on material we reviewed in previous sessions, even if it has already been mastered. I feel that practice and repetition is one of the best ways to remember material, and I want to ensure a student can recall previous lessons and current material. I often use "knowledge checks" to ensure the student is comprehending the concepts.
How do you build a student's confidence in a subject?
I build a student's confidence by providing support, encouragement, and reinforcement.
How do you evaluate a student's needs?
I feel the best source to evaluate needs comes from the student him/herself. I believe students are aware of the subjects and skills they excel in, and which ones may need improvement. Further, depending on the age of the student, feedback from teachers and parents may also prove beneficial in evaluating needs.
How do you adapt your tutoring to the student's needs?
I am willing to utilize any method I am competent in to ensure the student is receiving the best service possible. For example, if the student is a kinesthetic learner, I would use more manipulatives or games to aide in comprehension. If the student is an auditory learner, I would make sure to verbally explain concepts and encourage the student to read aloud.
What types of materials do you typically use during a tutoring session?
The materials I use typically depend on the student and format of the session. For younger children, I use toys and manipulatives for math. I also feel it is best to use the student's current school books, as to match and prepare them for what they will be learning in school.