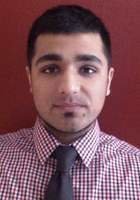 Haider Ali
Certified Tutor
I am a forward thinking educator who wants to change the way the biological sciences are taught to students, particularly in the secondary and higher education levels of instruction. I strive to teach biology in a manner that combines both expository and inquiry-based teaching with the ultimate goal of not only providing knowledge to students, but more importantly, provoking an intrinsic passion for the beautiful subject.
Hobbies
Basketball, baseball, soccer, research
Tutoring Subjects
College Biology
Ecology
Elementary School Science
High School Biology
Life Sciences
What is your teaching philosophy?
Learning the material and why it's worth learning in the first place.
What might you do in a typical first session with a student?
Introduce myself, my experience teaching, and my go-to keys for success.
How can you help a student become an independent learner?
Foster an appreciation for the subject that intrinsically motivates students.
How would you help a student stay motivated?
Show them the relevancy of what they are learning.
If a student has difficulty learning a skill or concept, what would you do?
Take a step back, run through the prior concept, tackle the difficult concept in a new way, and connect the concepts together.
How do you help students who are struggling with reading comprehension?
Breaking down the word into root words and the sentences into key words.
What strategies have you found to be most successful when you start to work with a student?
Show them that you are passionate about both the subject itself and teaching the subject.
How would you help a student get excited/engaged with a subject that they are struggling in?
Show the student how relevant that subject is in the real world with real world applications.
What techniques would you use to be sure that a student understands the material?
Consistently checking for understanding by asking different order level questions that cover recall, application, and synthesis.
How do you build a student's confidence in a subject?
Show them that the subject is worth learning.
How do you evaluate a student's needs?
You ask the student! In addition, a quick initial interview on content and learning practices would help as well.
How do you adapt your tutoring to the student's needs?
Consistently ask the student if the method being used is working and if not, change it to meet their needs.
What types of materials do you typically use during a tutoring session?
Flowcharts, graphs, figures.