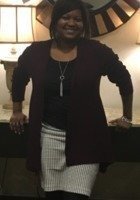 Candy
Certified Tutor
I am a lover of learning, especially mathematics. I believe students learn best from people they like, so I always make it a point to build relationships with students and treating them with respect and dignity. I also believe that students learn through different means, so I differentiate instruction to meet the needs of the students. I look forward to meeting all of the wonderful students who want to learn math in exciting way and engaging ways!
Hobbies
I love sports! More specifically, I love basketball, track and field and tennis. I also love singing and dancing, reading and exercising.
Tutoring Subjects
Elementary School Math
Homework Support
Other
Study Skills
Study Skills and Organization
Summer
What is your teaching philosophy?
Everyone is capable of learning; how they learn and what they learn varies from one person to the next, and there is nothing wrong with that.
What might you do in a typical first session with a student?
I would get to know the student as well as give him/her the time to know me, ask clarifying questions about his/her needs, administer a diagnostic assessment and start to work on whatever subject he/she needs help with. However, each student has different needs, so my goal is always to meet the needs of the student and an individualized plan, not a one-size-fits-all option.
How can you help a student become an independent learner?
Through questioning and inquiry-based activities. Sometimes the best way for students to learn is to discover the answers instead of being told. When students need more support and breaking down of material, I will work to break down content to its most basic components and then build it up.
How would you help a student stay motivated?
I would help a student stay motivated by first learning what motivates him or her and then using that as a constant reminder while coupling it with incentives that matter to the student.