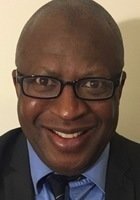 Ahmadou
Certified Tutor
I am a graduate of University of Wisconsin Madison (UW) with a bachelor degree in Human Development and Family Studies. I speak and write French fluently, I have learned French since I was 7 years old. I was born and raised in Senegal and have been living in the United States for 17 years. I always been passionate about learning and teaching languages, I have been a French tutor for many years for my own daughters and their friends at Middle and High schools, for my friends and their families and for my coworkers.

I have no doubt that knowing foreign languages is full of benefits, and I have been advocating that learning a second language should be one of the most important goals to achieve by students. Being a multilingual (speaking English, French and some Spanish), I have the opportunity to connect with people of different countries and culture, and to make great friends around the world. Our perception to others is more likely to change when we can understand and speak their languages. Learning foreign languages will enable us to understand and appreciate the rich and complex world we live in. With globalization in full swing, we need to educate global leaders, and foreign languages must be an important part of that endeavor. Remember that we gain also a lot of cognitive skills by learning a second language. Recent scientific research found that learning foreign languages makes students smarter, increase their mental focus and improve and reading and writing skills

I am very passionate about tutoring and believe that education is what truly makes difference in lives people. Learning a new language is not a waste of time as some people may think. Knowing a new language opens a lot of opportunities and prepares us to become global citizens. To those of you who will choose me as your tutor, you will have a reliable teacher you can count on. I am very knowledgeable of the French grammar, verbs conjugation and can teach all the levels (beginners, intermediate and advanced). I will teach you with the methods that best fit your needs. I will work with you to set realistic goals that will meet your best interests. Upon completion of the courses I will teach you, you should gain a lot of writing, reading, listening and communications skills. Good tutors always inspire and motivate students to shrive for greatness, and I am one of them. I am looking forward to meet you.
Education & Certification
Undergraduate Degree: UW Madison - Bachelors, Human Development and Families Studies
Hobbies
Spend time with family and friends, listening to radios, watch tv, picnic at parks, exercising, sports and travel
What might you do in a typical first session with a student?
The first session will be a time of introductions to get to know each other. I listen for the student to tell me his expectations from taking the class. I work with him to identify his needs and set realistic goals. I draft a course content and determine what methods best fit his needs. I let him know that everything will be done for his best interests.
How can you help a student become an independent learner?
Encourage the student to be an active participant and help him to be self-confident. Show him empathy by helping him to overcome his emotions. Make the student understand that the learning process can be frustrating, but will be overcome by his willingness to learn and effort.
How would you help a student stay motivated?
Being very supportive to the student's learning. Make him think that his effort will pay off. Give time and attention to the student by listening to him carefully. Appreciate his efforts.
If a student has difficulty learning a skill or concept, what would you do?
I would gauge his understanding of the concept and determine where his lacking of understanding is. I would explain the concept step by step and adjust my lesson to his pace.
How do you help students who are struggling with reading comprehension?
I would motivate them to read more and more. Also I would work with them with comprehension strategies.
What strategies have you found to be most successful when you start to work with a student?
Teach by asking questions and discussing. Begin any new lesson by reviewing the last session to make sure the student has understood what he previously learned. Consolidate the student's learning by going over the lessons. Teaching by small steps, so the student will not get overwhelmed.
How would you help a student get excited/engaged with a subject that they are struggling in?
Make sure that the student finds an interest in what he is learning. Teach the student using what he is passionate about. Engage him in meaningful learning.
What techniques would you use to be sure that a student understands the material?
Review briefly the content of the previous class before the beginning of a new class. Have the student do exercises at home to see if he masters his class. Give the student tests and quizzes.
How do you build a student's confidence in a subject?
Provide positive feedback to the student when he has done a good job. Set realistic goals for the student and make sure that he achieves them. Help the student to answer questions and solve problems on his own. Teach the student with enthusiasm and take account his interest.
How do you evaluate a student's needs?
Look at his actual work and learn about his weaknesses and strengths. It will consist of gathering the maximum amount of information regarding the student's level of learning. Tests and exams will be used.
How do you adapt your tutoring to the student's needs?
Once the student's needs are evaluated, I will be tailoring my tutoring to his needs. I will assess the student's learning frequently, and if necessary change the approach so it would fit his best interests.
What is your teaching philosophy?
Teaching is one of my passions. I value education and believes that it makes difference in people lives. Teaching is challenging and gratifying. A good teacher always inspires and motivates students to strive for greatness.
What types of materials do you typically use during a tutoring session?
The types of materials will include books, media, social media, and journals. Any material that fits the best interest of the student.