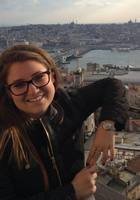 Ilana
Certified Tutor
Hi Tutees! I just moved to Brooklyn and I am doing a year of service with AmeriCorps working in legal aid for low-income New Yorkers. I have been teaching and tutoring for about three years now and have worked with students on a wide range of ages. Last year, I worked as a Hebrew School tutor for third graders, teaching bible, Hebrew language and Jewish holidays. Additionally, I have been studying Hebrew and Arabic language for years and have lived in both Jerusalem and Amman. I am proficient in both Hebrew and Arabic and am available for tutoring in both languages.

In addition to language skills, I have experience tutoring in reading comprehension, writing, elementary math, and history. I am excited to work with grade school aged kids on their homework, classwork and general classroom confidence. In D.C., I worked with a program called Reading Partners, tutoring elementary schools students on-on-one, helping them to improve their reading skills, their writing and their classroom confidence. I have walked many students through a routine that had allowed them to reach their goals and increase their comfort with language. I am a creative and patient tutor and I think outside of the box to make lessons relatable and enjoyable for both children and adults.

I graduated Magna Cum Laude with a B.A. in Middle East Studies from the Elliott School of International Affairs and spent much of my time proofreading my own social studies papers as well as my friends'. I am well-versed in political sciences theories and international affairs topics. I hold honors in George Washington University's religion department and spent most of the beginning of college teaching myself study skills to adapt to college level courses, which I would be happy to share with tutees.
Hobbies
I like to run in the park and exchange music with friends. I love learning about history and chatting about current events and meeting new people!
Tutoring Subjects
Arabic
College English
College Level American History
College World History
Elementary School Math
Hebrew
High School English
High School Level American History
High School World History
What is your teaching philosophy?
I like to work myself out of the job. What I mean by this: my ultimate goal is for my students to gain independence in learning, realize their strengths and develop strategies that allow them to tackle new material on their own. As a young student with cognitive difficulties, I learned that in order to succeed academically, I'd need to look at the material in a way that best suits my learning style. Understanding that one approach to learning doesn't suit every student, I aim to identify my students' unique access points to subject material by getting to know each student individually and finding out what clicks. I tailor each lesson to students' learning styles- and then practice looking at the material independently in order to empower students to learn best in all subject matter, in and out of the classroom.
What might you do in a typical first session with a student?
My typical first session will involve getting to know each other- tutor and student- and finding out individual goals. Is the aim to improve grades? Increase confidence? Learn conversational language skills in time for a trip? We will then project a plan of the material we will be covering, including an agreed upon outside-of-lesson work plan. We will then speak a bit about learning styles and how they learn best, and what some things they enjoy outside of class are, so I can incorporate some fun things into our lessons.
How can you help a student become an independent learner?
The ways I like to increase independence are to ask you what you already know about the problem or the material. I like to ask questions to see how you specifically look at the material, and then highlight your strengths and remind you of a successful way you've tackled a previous problem. I like to identify your strengths and remind you to use them wherever possible!
How would you help a student stay motivated?
If I notice some 'burnout,' I might take a break and ask the student what they initially thought they might gain from tutoring, and remind them how far we've come together. I break a big goal into little steps and remind the student the importance of what they are learning for reasons that are outside of the classroom or their next test. I remind students of their strengths and help them identify hurdles in their path, and how we've gotten over similar challenges before.
If a student has difficulty learning a skill or concept, what would you do?
I like to use real-world examples. For instance, with multiplication I will use something countable, and put them in groups to express a group of items a certain number of times. I often also break the concept down into smaller pieces and then have the student explain to me afterward why all of those steps lead to the initial question.
How do you help students who are struggling with reading comprehension?
I often ask the student what they thought the main idea of a text was. What was the conflict or climax in a story? What was the relationship between two characters? I often have students paraphrase what they've read, and then point to places that illustrate what they are saying. I do read alouds and reading silently together to see what the student might miss when they are not hearing the story out loud.