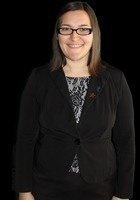 Linsey
Certified Tutor
I recently graduated from the University of North Florida. I have 6 years of tutoring experience. Of those 6 years, I have tutored for 2 years with Varsity Tutors. I love to help others in need. I have always easily understood math. Therefore, it is my favorite subject to teach. I am confident in my ability to teach in a way that is easily understood. I have always had a passion for teaching and know how to be patient with a student. I try to make sure they know how to do the problem on their own without help.
Hobbies
Singing, painting, games
What might you do in a typical first session with a student?
I would meet with the student and ask questions to gauge what he or she already knows. I would also get to know the student so I can relate my explanations of problems to his or her likes and dislikes.
How can you help a student become an independent learner?
I will first show them how to do the problem. Then I will help guide them through the next problem, and then let them do a problem on their own, and I will check the work. Through this process, the student is able to do the problem on their own in no time.
How would you help a student stay motivated?
I would try to relate what they are learning to something they enjoy, such as a sport or music. By doing so, they are more interested in the subject. I could also reward them for doing a good job.
If a student has difficulty learning a skill or concept, what would you do?
I would try to get to the center of the problem. I would try to explain it in the best way for the student to understand. For example, one of my friends was bad at fractions. She was in band so she understood time signatures. Therefore, in order to teach her fractions, I used time signatures and music notes. By doing so, she better understood fractions.
How do you help students who are struggling with reading comprehension?
I would teach them to slow down and use the underlying method. I would have them underline key phrases. We would practice by reading slowly first, and then start to practice reading faster.
What strategies have you found to be most successful when you start to work with a student?
The best strategy to start is to build rapport with the student. It is important to find out what they like and don't like. By knowing this information, I can relate problems to their likes and dislikes.
What techniques would you use to be sure that a student understands the material?
First, I would show them how to do the problem. Then, I would guide them through the next problem. Then I would let them do one on their own and help them if they asked for it. I would let them work through a problem with no help, and I would check the work. Based on the work, I would tell them what they did wrong and right. Then, I would let them try another problem. I would ask them specific questions about the problem to make sure they understand.
How do you build a student's confidence in a subject?
I would always praise what they do right. It is important to praise as well as correct. If part of the problem is right, praise them with a "great job." Then, help them fix the part that was wrong. Then, once they get the whole problem right, give them a high five or another reward.
How would you help a student get excited/engaged with a subject that they are struggling in?
I would relate the subject to something that they enjoy. If the student loves basketball and I relate the subject to basketball, they will be more engaged. If I reward them with something they like, such as stickers for a girl who loves stickers, then they are more excited to get problems correct.
How do you adapt your tutoring to the student's needs?
Every student is different. First, I would ask them to tell me where they think they struggle. Then we would try to work through a problem to see where the problem areas are. Once I know this, then I can help the student learn.
What types of materials do you typically use during a tutoring session?
Pencil, paper, old notes of mine, practice tests, and the student's book.