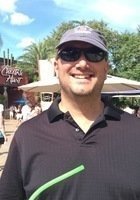 Travis
Certified Tutor
Generally, I think most students learn best from working through problems. However, every student is different. Some students benefit more from working through as many problems as possible so they get to evaluate their progress frequently. Other students don't benefit from this approach as much, but instead benefit more from considering possible problems and feeling comfortable discussing problems and concepts. I think what's most important for a tutor to reach success with a student is to listen carefully to the student and adapt the sessions for that individual student. I am a very popular tutor because I help you discover your true potential. I listen very carefully to what you know and I bring you to the next level.

I have taught math at the high school and college level, ranging from algebra through statistics. I have also worked as an MCAT instructor and an academic support specialist for various mathematics topics in addition to chemistry, physics, and organic chemistry.
Education & Certification
Undergraduate Degree: University of Rochester - Bachelor in Arts, Mathematics & English
Graduate Degree: University of New Hampshire - Master of Science, Mathematics
Test Scores
MCAT: 29
MCAT Biological Sciences: 11
MCAT Physical Sciences: 11
Hobbies
My interests include shopping with my wife, long distance running, reading John Grisham and David Baldacci among others, hiking in New Hampshire and Maine, disc golf, and walking our dog Henry
What might you do in a typical first session with a student?
It depends on the student. With some students, I'll jump right into questions. With other students, we'll jump right into concepts. I think what is most important is to listen to the student to determine what to do first.
How can you help a student become an independent learner?
I like to cover the SQRRR methodology. With math/science text, you want to first scan, then come up with your own questions, then read, then recite, and finally review the material. All of this is independent!
How would you help a student stay motivated?
Motivation comes from different places with different students. With some it is tests, for others it is gauging their own progress, with others it can come from long term career goals, etc. It is important to discover what motivates your student.
If a student has difficulty learning a skill or concept, what would you do?
I would ask questions that help the student to come up with exactly what their difficulty is with the skill or concept. With math and science, this often requires breaking a problem up into smaller and smaller parts.
How do you help students who are struggling with reading comprehension?
It is important to read whenever possible. Sometimes it helps to read material outside the subject area to help with reading comprehension. It depends on what the student is struggling with in reading comprehension.
What strategies have you found to be most successful when you start to work with a student?
It is very important to make sure the student is absolutely comfortable asking any and every question they have. Creating that relationship is vital to tutoring.
How would you help a student get excited/engaged with a subject that they are struggling in?
I often ask what their future career goals are and tie them into the subject. For example, if they are interested in business, then if I'm tutoring calculus, we can talk about marginal profit. If it's statistics, I can talk about variation in the sales of different models of cars, for example.
What techniques would you use to be sure that a student understands the material?
Reciting the material is key to testing one's understanding of material. Also, it is important to review material, so I always start my session off with a half hour of review questions from previous work.
How do you build a student's confidence in a subject?
A student's confidence grows as they are capable of answering questions on their own without a tutor's help.
How do you evaluate a student's needs?
I constantly ask a student what questions they have, and when I go over questions, I gauge how they perform on the questions. I also like to discuss the material generally and ask questions generally.
How do you adapt your tutoring to the student's needs?
Every student is different. Some are visual learners. Some are auditory. Some are more concrete learners, whereas others are more abstract. It is important to find what works best for that individual student.
What types of materials do you typically use during a tutoring session?
I like to find a text that the student can keep at their home and refer to. In some cases, I'll create quizzes or tests or problem sets, depending on the independence of the student.
What is your teaching philosophy?
I think it is most important to be a good listener if you are a teacher. You need to listen to the student carefully to make sure that you can optimize their independent learning as much as possible. Some students benefit most by working through many problems, whereas others learn better with a more abstract conceptual approach. Some students are more visual learners, and others are more auditory. Some are more concrete, and some are more abstract. It is important to consider teaching a dialogue that you and the student must share, and what is most important is that you listen in that process.