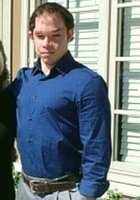 Michael
Certified Tutor
I graduated from the University of North Georgia with a Bachelor's degree in Psychological Science. Following a year off from school, I will pursue a Ph.D. in Industrial-Organizational Psychology. I love to learn and I hope to inspire a love for learning in any student I tutor. Tutoring is one of my favorite activities because, through tutoring, I get to live out one of my core values - to help and watch others succeed. As a tutor, I can adapt my knowledge, skills, and abilities to each student's specific academic needs so that they build confidence and skills to achieve their best grades possible. My tutoring skills have been solidified through previous tutoring experiences (at the high school and college level) as well as through extensive involvement on summer camp staff. These experiences have afforded me the opportunity to build interpersonal, communication, and instructional design skills that are effective and enjoyable. I am confident that I can help students with Psychology, Quantitative Methods, English, Public Speaking, Writing/English, and Essay Editing. In addition, I can teach study skills that a student can take with them through the rest of her or his academic career.
Education & Certification
Undergraduate Degree: University of North Georgia - Bachelor of Science, Psychological Science
Test Scores
GRE: 326
GRE Quantitative: 166
GRE Verbal: 160
Hobbies
When I am not tutoring, I enjoy being outside, meeting new people, and visiting new places. I also like reading, putting puzzles together, and exercising.
Tutoring Subjects
College English
High School English
Social Sciences