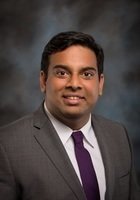 Vishnu
Certified Tutor
I am a Masters in Finance student at Claremont McKenna College and will be beginning my professional career as an Investment Banker for JMP Securities in the summer of 2015. I completed a Bachelors in Business Administration at West Virginia University and only recently made the move to sunny Southern California.

Having previously studied pre-medicine, my educational interests have been quite varied and extensive. That said, I am most passionate about business, finance, math, and English courses. As an avid reader and amateur writer, English has long been a favorite subject and I enjoy discussing alternative viewpoints and thoughts on contemporary and classic literature.

Outside of the classroom and the board room, my favorite hobbies involve sports, movies, and my friends and family. Football, basketball, tennis and soccer are my favorite sports, both to play and watch. Having grown up in the mountains of West Virginia, I am an avid skier and am excited to tackle the West Coast slopes. I'm a big fan of movies; recent favorites include Lincoln, The Hobbit trilogy, and Interstellar. I also enjoy working with the Joshua R. Zontek Scholarship Fund, to help high school students achieve their dream of attending college.

I've been fortunate to have had tutoring supplement my early educational development, and I sincerely look forward to imparting the benefits of this prior experience on other students to help them reach their full potential. Education is the foundational building block of the next generation, and I'm excited to do my small part to groom the leaders of tomorrow!
Education & Certification
Graduate Degree: West Virginia University - Unknown, Finance
Graduate Degree: Claremont McKenna - Master of Arts, Finance
Test Scores
GMAT: 780
GMAT Quantative : 50
GMAT VERBAL: 48
Hobbies
Football, Basketball, Tennis, Soccer, Skiing, Traveling, Reading, Movies, Music
Tutoring Subjects
10th Grade Math
11th Grade Math
12th Grade Math
7th Grade Math
8th Grade Math
9th Grade Math
Business
College Accounting
College Math
GMAT Analytical Writing Assessment
GMAT Integrated Reasoning
GMAT Quantitative
GMAT Verbal
High School Accounting
High School Business
Intermediate Accounting