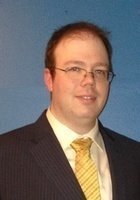 Tim
Certified Tutor
I am a graduate of Coker College in Hartsville, SC where I received a B.A. in Chemistry and minor in Biology with a focus in both Ecology and Theater. Since graduating, I have been an Ecology instructor and Public Speaking instructor for the Boy Scouts as well as a sales trainer for a major bookstore chain. I have also spent two years teaching science and engineering at the high school level. While I feel that I am well versed in a variety of subjects, my specialties would be math and composition. I work well with all age groups, and I feel that with patience and a knack for being able to explain a concept in a dozen different ways, anyone can learn anything. Education is the key that opens the door to critical thinking, which is the key to everything else. I really enjoy extraordinarily long and complicated board games with friends as well as listening to podcasts that expand my knowledge, both trivial and otherwise.
Education & Certification
Undergraduate Degree: Coker College - Bachelor in Arts, Chemistry
Test Scores
SAT Math: 790
Hobbies
Board games, video games, trivia, hiking, dinner parties, vacations, cooking, fine dining, building things from scratch.
Tutoring Subjects
College English
Elementary School Math
High School English
Other
Summer