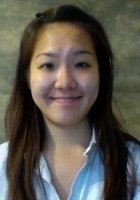 Esther
Certified Tutor
Born and raised in New York, I am fortunate enough to have lived in two out of the five boroughs and the longest island in the contiguous United States. I studied Romance Languages in the big city, with minors in Psychology and Business, and I also studied abroad in Paris before receiving my Bachelor's degree in 2011. I am currently studying French Literary Translation at NYU and looking forward to visiting those sweet pastry shops of Paris again.

I have tutored for about five years now and I enjoy it very much. I took quite a few AP classes in high school, so I understand how fast-paced some classes are and how overwhelming that can be for the student. I believe in spending the extra time to make sure that the student understands the new or difficult concepts so that he/she can feel confident in the subject and in himself/herself before we move on. I strive to create an environment that is both comfortable and productive, and I am not afraid to use technology and humor to help a student learn and retain new material.

In my free time, I like to walk around the city in search of street fairs (and free food), watch sitcoms in foreign languages, experiment with baking and cooking, take trips with my family and friends, and practice yoga with my 2-year-old shih-tzu, Barem.
Education & Certification
Undergraduate Degree: New York University - Bachelor in Arts, Romance Languages
Test Scores
ACT Composite: 32
SAT Composite (1600 scale): 1510
SAT Math: 750
SAT Verbal: 720
SAT Writing: 710
Hobbies
travel, foreign languages, cooking/baking/eating
Tutoring Subjects
College English
Elementary School Math
High School English
Social Sciences
Spanish 1