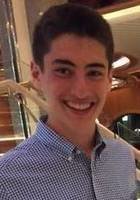 Alex
Certified Tutor
I am currently a student at Stanford University studying math and political science. I am passionate about sharing my knowledge and experience with younger students. I have helped students of different ages and from diverse socioeconomic backgrounds, and so I am very conscious of the needs and prior knowledge my students and tailor my tutoring method and style individually.

I tutor students in a wide range of subjects. In subjects related to reading and writing, I focus first on the students comprehension of the material at hand and then help the student construct an analytical argument. In subjects related to math, I review the foundational concepts in a certain topic before proceeding to assist the student with specific example problems. I always make sure to make my lessons enjoyable and relatable, so that the students attention remain on the subject matter.

I am also very knowledgeable about standardized tests, particularly the ACT and many of the SAT subject tests, and so I am always excited to help students reach their full potential on these tests.
Education & Certification
Undergraduate Degree: Stanford University - Bachelor in Arts, Applied Mathematics
Test Scores
ACT Composite: 35
ACT English: 36
ACT Math: 36
ACT Reading: 36
ACT Science: 34
SAT Mathematics Level 2: 800
SAT Subject Test in Chemistry: 800
SAT Subject Test in Biology E/M: 790
SAT Subject Test in U.S. History: 800
PSAT: 1490
PSAT Verbal: 750
PSAT Math: 740
Hobbies
biking, reading science fiction, backpacking, cooking breakfast
Tutoring Subjects
Business
Business Calculus
C++
CLEP Prep
CLEP Precalculus
College Application Essays
COMPASS Mathematics
Discrete Math
GED Math
High School English
High School Physics
High School Writing
ISEE-Lower Level Mathematics Achievement
ISEE-Lower Level Quantitative Reasoning
ISEE-Lower Level Writing
ISEE-Middle Level Mathematics Achievement
ISEE-Upper Level Mathematics Achievement
Java
Mac Basic Computer Skills
Microsoft Excel
Microsoft Office
Middle School Writing
Other
SAT Subject Test in Mathematics Level 1
SAT Subject Test in Mathematics Level 2
SAT Subject Tests Prep
Technology and Coding
Thermodynamics