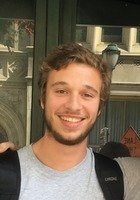 Jacob
Certified Tutor
I went to a small Quaker school in center city Philadelphia, where I learned to love learning, particularly math and science classes. I began tutoring my younger siblings in these subjects when they had trouble themselves. I even began attending Biology review sessions to help my teacher explain topics to other students and review material with them. I always enjoyed teaching simply because I enjoyed and was passionate about the material itself. But I enjoyed it even more when I heard about all the success other students were having as a result of my teaching.

I was recruited to Brown University for rowing, and am officially undeclared but plan on graduating with a dual degree in biology and German studies. My favorite subjects to tutor are the ones I'm most passionate about; namely biology, German, and math (algebra and trig).

Outside of all that, I enjoy rowing, running, biking, watching films (in English and German), and playing guitar.
Education & Certification
Undergraduate Degree: Brown University - Current Undergrad, Biology and German
Test Scores
ACT Composite: 34
ACT English: 34
ACT Math: 34
ACT Reading: 32
ACT Science: 34
Hobbies
Rowing, playing guitar, biking, movies,
Tutoring Subjects
College Biology
Conversational German
German 1
German 2
High School Biology
What is your teaching philosophy?
I think that making the material fun is the best way for students to engage with it. The more passionate or interested a student is in the material, the more motivated they will be to study it. The more they study it, the better they will do! The best teachers are the ones that make learning fun.
How would you help a student stay motivated?
You need to have long-term aspirations. You need to dream big in a long-term context and realize what you do now, if done well, can help you reach your dreams in the future, no matter how far-reaching they are. You need to imagine your dream school, dream job, dream life, and realize you can influence your future towards those goals by the work you do now.
How do you build a student's confidence in a subject?
Positive reinforcement. Really acknowledge when a student does something well. When they meet a challenge, help them overcome it, and then point out to them how far they've come and make them realize what a difference hard work can make towards confidence in something.