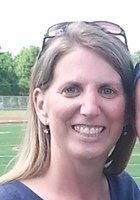 Eileen
Certified Tutor
I love to teach! I believe anyone can learn. A student has to be open to learn though and a great teacher can help to open a mind to that.

Learning can be fun and especially when you work one-on-one with someone. The lessons can be focused to exactly what one needs and that really helps things to move along more quickly.

After being in education for over 20 years, I am excited to work with new people and to experience teaching in a whole new way!
Hobbies
photography, reading, hanging out with my kids
Tutoring Subjects
1st Grade
1st Grade Math
1st Grade Reading
1st Grade Writing
2nd Grade
2nd Grade Math
2nd Grade Reading
2nd Grade Writing
3rd Grade
3rd Grade Math
3rd Grade Reading
3rd Grade Science
3rd Grade Writing
4th Grade
4th Grade Math
4th Grade Reading
4th Grade Writing
5th Grade
5th Grade Math
5th Grade Reading
5th Grade Science
5th Grade Writing
6th Grade
6th Grade Math
6th Grade Reading
6th Grade Science
6th Grade Writing
7th Grade
7th Grade Math
7th Grade Reading
7th Grade Science
7th Grade Writing
8th Grade
8th Grade Math
8th Grade Reading
8th Grade Science
8th Grade Writing
9th Grade Math
College English
College Math
Elementary Algebra
Elementary School
Elementary School Math
Elementary School Reading
Elementary School Science
Elementary School Writing
High School English
Homework Support
ISEE-Lower Level Mathematics Achievement
ISEE-Lower Level Reading Comprehension
ISEE-Lower Level Verbal Reasoning
ISEE-Lower Level Writing
ISEE-Middle Level Quantitative Reasoning
ISEE-Middle Level Verbal Reasoning
Life Sciences
Middle School Reading
Middle School Science
Middle School Writing
Physical Science