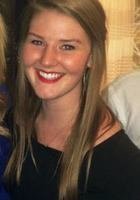 Colleen
Certified Tutor
I am a graduate of Saint Louis University where I majored in Psychology and Spanish. I am currently working as a research coordinator at the University of Miami before pursuing a Ph.D. in Clinical Psychology. I have been tutoring professionally for about 6 years now. My experience includes working with high school students on basic math such as Algebra and Pre-Calculus, and undergraduate university students in the subjects of Spanish, Psychology, and GRE test prep. I also worked with both young children and adults learning English as a second language when I lived in Madrid, Spain for a year of my undergraduate studies. My passion for tutoring comes from both a passion for learning and an understanding of the frustration that comes with academic struggles. I work very hard to understand how the student learns and then tailor my approach to the subject in a way that engages them without adding to that frustration. In my experience, oftentimes when students are working very hard and still not seeing the success they desire, they are simply spinning their wheels. My goal is to work with the student to redirect the misguided effort towards rewarding and attainable goals. In doing so, I add to the students understanding of not only the subject material, but also of their own learning process so as to improve their own academic competence. Outside of academia, I enjoy spending time with family and friends, running with my dog, visiting the beach, dancing, and cooking.
Hobbies
I enjoy spending time with my friends and family, playing volleyball, running, playing with my dog, the beach, cooking, listening to podcasts, watching basketball/football games, and dancing.
What is your teaching philosophy?
All students are capable, and the first steps to success for any student are learning how to learn and developing the confidence to do so.
What might you do in a typical first session with a student?
In a first session, I would want to get to know the student a little bit. We'd discuss the motivations for tutoring and set out goals for our time together. We'd also lay out a tentative plan for the content and materials we'll cover in each session.
How can you help a student become an independent learner?
Becoming an independent learner requires understanding one's personal learning style as well as one's common barriers to learning. Each student is different and thus, faces different challenges. Being able to identify steps that can be taken independently in order to get through an assignment or a problem goes a long way in fostering a competent, independent learner.
How would you help a student stay motivated?
Of course, it depends on the student. Younger students are often motivated by external factors such as rewards. Older students may be motivated more by intrinsic factors, which I would encourage by noting the student's progress and success thus far.
What techniques would you use to be sure that a student understands the material?
I think testing a student's knowledge of material at a level that's just above their comprehension and monitoring how they would approach the problem is a good way of truly ensuring that the student understands the material. For example, if a student seems to understand how to multiply exponents, I would have them work on a problem that has to do with multiplying and dividing in order to see how they apply what they know. They may get the answer wrong, but if they are able to explain to me their rationale, then it's clear they know the current material. I also think that teaching someone else is a true test of how much someone knows material. I'd have them teach me step by step how to do a problem asking questions along the way to be sure.