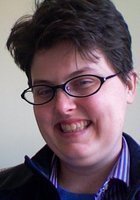 Lindsey
Certified Tutor
I am an experienced tutor well-versed in many subject areas. Currently, I am working on my dissertation in Engineering Education from Purdue University. In 2005, I received my B.S. in Mechanical Engineering from Boston University where I minored in History. In 2011, I studied in England to earn a M.A. in Poverty & (International) Development from the University of Sussex. I know first-hand the challenges associated with manipulating equations and writing extended essays. My favorite subjects to tutor are Math, Physics, History, and Engineering.

During tutoring sessions, I strive to make students comfortable with the material and confident in their abilities. I'm glad to work with you when you feel in over your head, when you want that little bit of extra polish, and at all times in between. I ask a lot of questions to encourage you to think through whatever it is you are trying to master.

I love traveling and frequently take extended road trips around the United States. I especially like driving through the Appalachian Mountains during the day because they are so beautiful!
Education & Certification
Undergraduate Degree: Boston University - Bachelor of Science, Mechanical Engineering
Graduate Degree: University of Sussex - Master of Arts, Poverty and International Development
Graduate Degree: Purdue University - PHD, Engineering Education
Test Scores
SAT Composite (1600 scale): 1430
SAT Math: 730
SAT Verbal: 700
Hobbies
Traveling, Walking, History, Reading
Tutoring Subjects
Aerospace Engineering
AP Comparative Government and Politics
Civil and Environmental Engineering
College Chemistry
College Computer Science
College Level American History
College Physics
College World History
Computer Programming
Engineering
High School Chemistry
High School Computer Science
High School Level American History
High School Physics
High School World History
Honors
IB Computer Science
IB Computer Science HL
IB Computer Science SL
IB Design Technology
IB Design Technology HL
IB Design Technology SL
IB Environmental Systems and Societies
IB Environmental Systems and Societies SL
IB Global Politics
IB History
IB Mathematics: Analysis and Approaches
IB Mathematics: Applications and Interpretation
IB Physics
IB Social and Cultural Anthropology
IB Social and Cultural Anthropology HL
IB Social and Cultural Anthropology SL
IB World Religions
Industrial Engineering
Mechanical Engineering
Middle School Science
Newtonian Mechanics
Other
Physical Science
Social Sciences
Summer
Technology and Coding
What is your teaching philosophy?
I believe in coming alongside students where they are at right now. My first question to every student is, "How can I help you today?" I want to be there for students wherever they are on their educational journey.
What might you do in a typical first session with a student?
In my typical first session, I try to understand what the student hopes to gain from working with a tutor. Are they working to master content? Are they wanting to improve their confidence? Are they looking for an outlet for their intellectual curiosity? Additionally, I focus on reflecting with my students about how they could improve their study skills during the week and become increasingly independent learners.
How can you help a student become an independent learner?
I try to help students become independent learners by giving them a lot of opportunity to practice and guide our discussions as they increase in their confidence. When I think a student is ready to try out a skill on their own, I create space for their own problem solving and encourage them to ask for support if they get stuck.
How would you help a student stay motivated?
I keep students motivated by noticing their progress. I am quick to encourage students, recognizing the value of their hard work.
If a student has difficulty learning a skill or concept, what would you do?
I understand that each student has his or her own learning style. I spend time getting to know all of my students so I can discover what works. Most often, I encourage students to recognize places of real world connection, use analogies that resonate with students, and provide the student with scaffolded practices that have increasing complexity.
How do you help students who are struggling with reading comprehension?
I use a range of strategies such as encouraging them to slow down their reading speed when noticing details are important or recognizing how to pull key information off the page in otherwise dense texts.
What strategies have you found to be most successful when you start to work with a student?
Tutoring relationships work best when a student finds words to explain what he or she wants from our time together. I've found it helpful to review past work and tests, to ask the student if he or she has any current homework I can help with, and to identify places where the student feels anxious about things yet to come.
How would you help a student get excited/engaged with a subject that they are struggling in?
I emphasize real-world applications. Additionally, I never shy away from using enrichment approaches when students are struggling. I believe that students learn best when they are motivated to ask big questions.
What techniques would you use to be sure that a student understands the material?
I use a variety of techniques to make sure that students understand the material: I give students time for independent practice during our session, I ask questions to probe their understanding, and I encourage them to try to explain the concept to me.