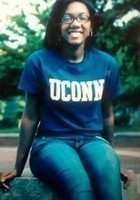 Alleya
Certified Tutor
I am currently a Senior at the University of Connecticut majoring in Business Management and minoring in Public Policy. My career interests include human resources, programming, and non-profit management. Along with non-profit management, I enjoy volunteering and helping others.

As a tutor at the middle, high school, and college level, I have a wide range of experience helping students in various subjects, including Chinese, reading, and math, which is my favorite subject.Tutoring is one of my favorite ways to help others because it is so rewarding. Helping students through their academic problems is an opportunity for me to further enhance the generation of tomorrow for success. Outside of academics, my interests include singing in my college Gospel choir, reading, and Tae Kwon Do.
Hobbies
Singing, Reading, Basketball, Tae Kwon Do
Tutoring Subjects
6th Grade Math
7th Grade Math
Business
College Economics
College Geography
Conversational Mandarin
Elementary School Math
Financial Accounting
High School Business
High School Economics
High School Geography
Homework Support
Managerial Accounting
Mandarin Chinese 1
Marketing
Other
Summer
US History
What is your teaching philosophy?
Patience is key. Don't be afraid to take a break and come back to a problem you don't understand. Learning is not a race.
What might you do in a typical first session with a student?
I would get to know the student by asking them questions about their life. By understanding their interests, passions, and mindset, it will allow me to tutor in a way that best suits their lifestyle.