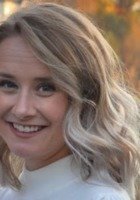 Emily
Certified Tutor
I am an enthusiastic science teacher with 6th years experience teaching grades 6-8! Teaching is my passion, and I care deeply about my students.

I have a BS in Science, Technology and Culture from Georgia Tech and a Master of Arts in Teaching from the College of St. Mary.
Hobbies
I am a huge science fiction fan!! On my free time I like to hike and read!