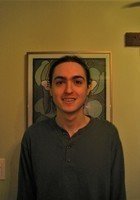 Dylan
Certified Tutor
I am a student at Oberlin College in Ohio, pursuing a double major in English and Environmental Studies. I have been tutoring students since high school and have experience tutoring all ages, from kindergartners to high school seniors.

I received professional tutor training during college while involved with the America Reads program, where I worked alongside an elementary school teacher and worked intensively with students one-on-one who were having extra difficulties with reading, writing, and literacy skills. While I have the most professional and academic experience tutoring in English-related subjects such as essay editing, reading, and literature, I am also proficient in algebra, middle school level math, and science subjects from years of tutoring middle and high school level students through the National Honor Society in high school.

I know that students learn best when able to communicate their own learning style, so I will work my hardest to tailor lessons specifically to your method of learning. My personal belief is that students learn best when they are able to find the answer rather than have it shown to them, so I intend for my students to be able to fully understand the concepts and ideas behind their questions.







Education & Certification
Undergraduate Degree: Oberlin College - Bachelor in Arts, English
Test Scores
ACT Composite: 32
ACT English: 35
ACT Science: 32
Hobbies
Outside of school, I am an avid reader and a musician. I play bass, guitar, and piano, and have performed and recorded music with many bands. I also love hiking and camping, and try to be outside whenever I can.
Tutoring Subjects
Ecology
High School English
High School Level American Literature
High School Writing
Middle School Writing
Psychologies
Social Sciences