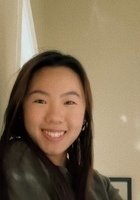 Gloria
Certified Tutor
I am currently an undergraduate double majoring in Computer Science and Music at Cornell University. I enjoy working with students, and can tutor in a broad range of subjects. In my experience, I've been able to help many struggling students prepare for their standardized tests and school exams by teaching them valuable study methods and breaking down the questions until they are able to grasp a deep understanding of the subject. Not only do we make outstanding improvements, but we are able to have fun and make discoveries through our engaging conversations. I believe curiosity and the pursuit of knowledge is absolutely necessary for an enhanced quality of life, and I try to convey this in my interactions with all my students.


Education & Certification
Undergraduate Degree: Cornell University - Bachelor in Arts, Computer Science
Test Scores
SAT Composite (1600 scale): 1590
SAT Math: 800
SAT Verbal: 790
AP Chemistry: 5
AP Calculus AB: 5
AP Calculus BC: 5
AP Statistics: 5
AP French: 3
AP English Language: 5
AP World History: 5
SAT Mathematics Level 2: 800
AP Computer Science A: 5
AP Music Theory: 5
AP U.S. Government & Politics: 5
SAT Subject Test in Chemistry: 790
Hobbies
In my spare time, I enjoy working out and scouring food blogs to find new recipes to try. I also love researching true crime and listening to podcasts during long hikes!
Tutoring Subjects
10th Grade Algebra
11th Grade Algebra
12th Grade Algebra
6th Grade Algebra
7th Grade Algebra
8th Grade Algebra
9th Grade Algebra
Abstract Algebra
Accelerated Algebra
Advanced Algebra
Advanced Algebra and Trigonometry
Algebra 1
Algebra 3
Algebra 3 Trigonometry
AP Algebra
AP Computer Science A
AP Computer Science Principles
AP French
Associative Algebra
Cello
Common Core Honors Algebra 2
Commutative Algebra
Conversational Mandarin
CSS
Differential Algebra
Elementary School Math
Elementary School Reading
Elementary School Writing
Financial Algebra
High School Chemistry
Honors Algebra
Honors Algebra 2
HTML
Java
JavaScript
Linear Equations
Linear Systems
Mac Basic Computer Skills
Mandarin Chinese 3
Mandarin Chinese 4
Middle School Reading
Middle School Reading Comprehension
Middle School Writing
Music
Non-associative Algebra
Piano
Pre-AP Algebra
Pre-Ap Algebra 2
Programming Languages
SAT Verbal
Technology and Coding