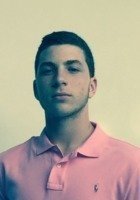 Daniel
Certified Tutor
I just finished my Freshman year at Tulane University, where I am working towards my Finance degree in the Freeman School of Business. I have tutoring experience, as I tutored students in English and Mathematics during high school. Now, I tutor K-12 Math/English, including Algebra 1, Algebra 2, Precalculus, Calculus, and Language Arts, as well as Python, Hebrew, and Test Prep. My favorite subjects to tutor include Algebra 1, Algebra 2, and Language Arts. In terms of my tutoring philosophy, I feel as though a student has not mastered a topic until he/she can effectively explain it back to me as if I am a student wanting to learn said topic. Throughout my experience tutoring and receiving tutoring, I have found that this is a very powerful way of assessing mastery of a concept.
Extracurricularly, I love playing piano, drums, and producing/composing all sorts of music (hip hop, electronic dance, cinematic) on the computer using Ableton Live, as well as playing/watching basketball and football. Additionally, I love reading novels, the newspaper, and magazines.
Test Scores
ACT Composite: 31
ACT English: 35
ACT Math: 32
ACT Reading: 31
Hobbies
Playing piano and drums, composing/producing music electronically, playing/watching basketball and football, reading.
Tutoring Subjects
College English
Hebrew
High School English
Homework Support
Other
Poetry Writing
Summer