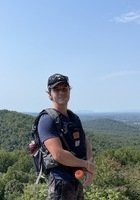 Benjamin
Certified Tutor
I struggled in school as a child and an upperclassman became my tutor. Eventually, that person changed my entire perspective on education in general! Today, I'm trying to return the favor!
I love teaching Math (Geometry, Algebra, Calculus) and believe any student can learn curriculum if the tutor helps identify "How" that student learns instead of "What needs to be learned". I apply this philosophy to those students I help through the Virginia Veteran's Association and the Washington, DC Boys' and Girls' Club!
I hold two bachelors degrees in Mechanical Engineering and Supply Chain Management and a Masters in Decision Analytics.
Hobbies
Outside of Tutoring I enjoy my job as a Supply Chain Manager, hiking, running, biking and swimming! I also compete and train for IronMan triathlons! I love to try new kinds of coffee and enjoy helping out at the local animal shelter! I love traveling and I've been to 6 of the 7 continents! Can you guess which ones?