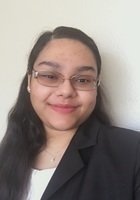 Arlin
Certified Tutor
Hi! I am a current undergraduate studying both neuroscience and history! I have a passion for teaching and my biggest goal for my students is to walk away feeling confident about the subject material covered in the session. I aim to create an environment that fosters trust and comfort so students are never afraid to ask questions or tell me that they're completely lost and need me to reexplain. I also make really nerdy puns and provide funny stories to help create connections with subject material and make for a fun session!
Test Scores
ACT Composite: 32
ACT English: 35
ACT Reading: 34
ACT Science: 31
SAT Composite (1600 scale): 1400
SAT Verbal: 770
Hobbies
I'm very social and love hanging out with my friends whether we're just spending a night in watching movies and ordering takeout or going shopping. I'm also a bit of a history buff and love trivia and documentaries as well as historical fiction books and movies. Additionally, I play the violin and cook although I'm still a little rusty on both of those things.
Tutoring Subjects
ACT Aspire
ACT Residual
ACT Study Skills and Organization
ACT with Writing
College Level American History
Elementary School English
Elementary School Math
Elementary School Reading
Elementary School Writing
High School Biology
High School English
High School Government
High School Level American History
High School Physics
High School World History
High School Writing
Middle School English
Middle School Reading
Middle School Reading Comprehension
Middle School Science
Middle School Writing
Other
PreACT
Psychologies
SAT Essay
SAT Math Prep Course
SAT Reading Prep Course
SAT Verbal
Social Sciences
Study Skills
Study Skills and Organization
Zoology